It's been almost a year for the game in developed and it is time to upgrade this game in big change.
I will be revamp the game with the new framework I have discover and make it better for the sake of the new feature I'm gonna add which is the Chat feature.

Other changes /additional feature you will see as following:
On game
- Chat feature
- Action Log feature (you can view what was the previous action done by other players when you are away)
- Rounds (to show current rounds of the game)
- Better UI

On the website
- Lobby UI to be change
- Achievement and Awards feature
- User profile to be improvise together with Achievements and awards display
- Ranking page

This will be my next biggest update ever and shall be deliver in 1-2 months time. Feel free to suggest something! We can make the game better.
Admin




Posts

: 957


Points

: 1362


Join date

: 2010-03-10


Age

: 35

---

Awards

: [table cellspacing=2][tr][td][/td][td][/td][td][/td][/tr][tr][td]Most wins
2011(20)[/td][td]Highest point
winning 2011(10)
2012(11)[/td][td]Longest winning
streak 2011(8 )
2012(2)[/td][/tr][tr][td][/td][td][/td][td][/td][/tr][tr][td]Bankrupt maker
2011(4)
2012(2)[/td][td]No Bankrupt
2012[/td][td][/td][/tr][tr][td][/td][td][/td][td][/td][/tr][tr][td]Ultimate Winning
Points Bronze[/td][td]Champion Winning
Bronze[/td][td]Self-pick Winner
Bronze[/td][/tr][/table]


Character sheet
HP:


(69/100)


MP:


(15/20)


Power:


(18/20)



Some changes in Lobby UI. Check it out!
New things in Lobby like displaying your Avatar.
You can now Manage your account to update your email address and upload image for avatar.
Admin




Posts

: 957


Points

: 1362


Join date

: 2010-03-10


Age

: 35

---

Awards

: [table cellspacing=2][tr][td][/td][td][/td][td][/td][/tr][tr][td]Most wins
2011(20)[/td][td]Highest point
winning 2011(10)
2012(11)[/td][td]Longest winning
streak 2011(8 )
2012(2)[/td][/tr][tr][td][/td][td][/td][td][/td][/tr][tr][td]Bankrupt maker
2011(4)
2012(2)[/td][td]No Bankrupt
2012[/td][td][/td][/tr][tr][td][/td][td][/td][td][/td][/tr][tr][td]Ultimate Winning
Points Bronze[/td][td]Champion Winning
Bronze[/td][td]Self-pick Winner
Bronze[/td][/tr][/table]


Character sheet
HP:


(69/100)


MP:


(15/20)


Power:


(18/20)



Player profile changes:
Old profile screen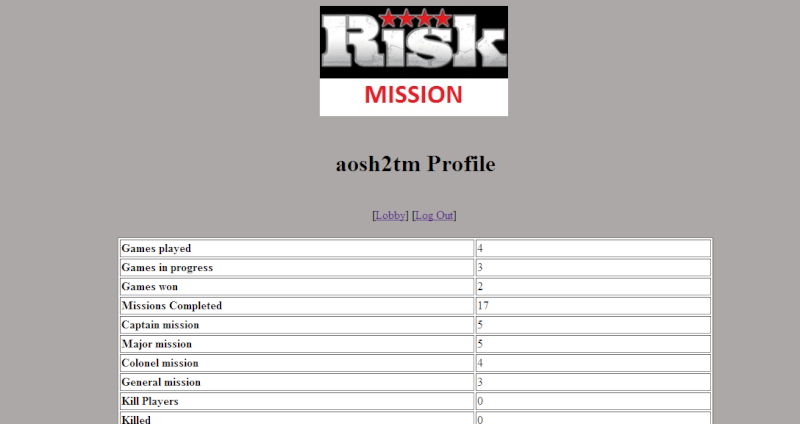 New profile screen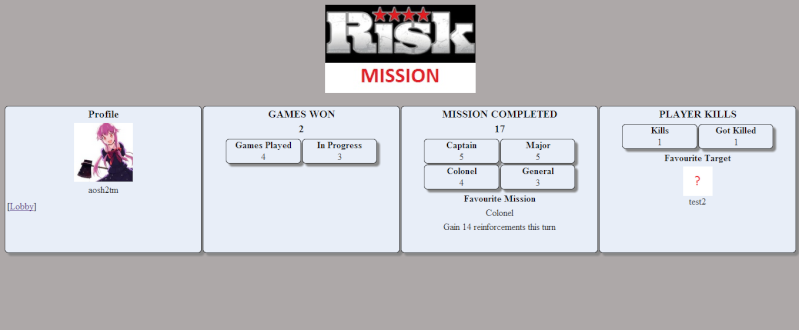 The new profile screen have 2 fields - Favourite mission and favourite target
Admin




Posts

: 957


Points

: 1362


Join date

: 2010-03-10


Age

: 35

---

Awards

: [table cellspacing=2][tr][td][/td][td][/td][td][/td][/tr][tr][td]Most wins
2011(20)[/td][td]Highest point
winning 2011(10)
2012(11)[/td][td]Longest winning
streak 2011(8 )
2012(2)[/td][/tr][tr][td][/td][td][/td][td][/td][/tr][tr][td]Bankrupt maker
2011(4)
2012(2)[/td][td]No Bankrupt
2012[/td][td][/td][/tr][tr][td][/td][td][/td][td][/td][/tr][tr][td]Ultimate Winning
Points Bronze[/td][td]Champion Winning
Bronze[/td][td]Self-pick Winner
Bronze[/td][/tr][/table]


Character sheet
HP:


(69/100)


MP:


(15/20)


Power:


(18/20)





Similar topics
---
Permissions in this forum:
You
cannot
reply to topics in this forum